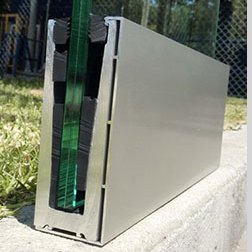 Technical documentation

Promotional Brochure
AV System
Railings
Aluminium and glass railing system
Ref. : AV System
Endowed with sublime elegance, yhe new aluminium and glass railing system AV follows on the minimalist lines oriented to the modern architecture where aesthetic rules. 
From simple design, the system seeks to respond to current architectural trends regarding the funcionality and structural security that are required.



Presentation

Straight

Dimensions

Rectangular section fixing profile 41x120mm

Filling

From 12 to 20 mm

Finishes

Powder coating | Anodised

Glass thickness recommended

Pool fence: glass 12mm (6+6)
Places for residential activity: glass 16mm (8+8)
Public facilities places: glass 20mm (10+10)

Glass type recommended

Laminated | Laminated - Tempered
System provided by

JGI partner for over 20 years!
Share on