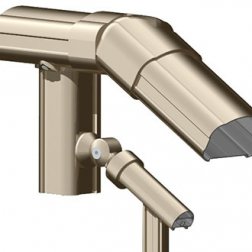 Technical documentation

Side View

Technical Catalogue

Promotional Brochure
NG System
Railings
Railing and banister system
Ref. : NG System
Aluminium system certified by CEBTP (Centre Expérimental de recherches et d'études du Bâtiment et des Travaux Publics).

which relying on its versatility materialized on the excellent quality of its composing accessories can be used with any sort of railing or staircase banister, notwithstanding how original their shapes may be.

The different performable typologies fully cover the needs in the construction sphere, being a possible enhancement to both traditional inhabitations and modern buildings.
| | |
| --- | --- |
| Banister | 80x51mm |
| Plumb line | 50x50mm, with double profile |
| Plates | Same profile railing, with a roundish rectangular section, concealed anchorage through an oval profile. Railing with decoration bars or decoration models is possible. |
| Cut | 90º |
| Anchor points | Extruded, anodizable to profile colour |
| Accessories | For several situations (staircases, completions, vertical and horizontal angles). In lacquered finishing only. |
System provided by

JGI partner for over 20 years!
Share on