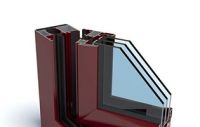 Technical documentation

Side View

Promotional Brochure

Technical Catalogue
LT System
Hinged
67mm jamb system with thermal
Ref. : LT System
The LT isothermic system has been designed to provide great comfort. The combination of this system with selective triple panes offers high thermal and/or acoustic break.

Concealed LT was created to answer designers' requests. This variant of LT has come to fill a gap in the minimalist series of OS sliding, making it now possible to coordinate the sliding system with this jamb system, maintaining architectural lines coherent.
Aspect

Straight | Oval | Concealed

Fixed Ring

67mm

Movable Ring

74mm

Filling

Straight Line - 56mm (máx.)
Oval Line - 50 mm (máx.)
Concealed Line - 30 mm (máx.)

Insulation

EPDM Joints

Polyamide

24mm

Maximum weight

Straight and Oval Lines - 150Kg/leaf
Concealed Line - 120Kg/leaf
Test Results
CE Marking (EN 14351-1:2006 + A1:2010):
AIR Permeability: Class 4
WATER Proofness: Class E900
WIND Resistance: Class C5
System provided by

JGI partner for over 20 years!
Share on