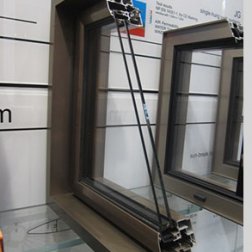 Technical documentation

Side View

Promotional Brochure

Technical Catalogue
OT System
Hinged
Opening system with channel 16 of 70mm section 
Ref. : OT System
The OT System was developed with the aim to reduce the execution and application time, consisiting of a system whose processes like machining, assembly and application is greatly simplified. The use of the hardware channel 16 allow multi-axis adjustment, thereby contributing to the excellent operation fo the frame. Combining all this with the application of selective glazing, the OT system provides excellent thermal and acoustics benefits.
Presentation

Straight| Decor | Oculta

Fixed frame

Straights and Decor lines - 70mm
Concealed line - 70mm

Mobile frame

Straights and Decor lines - 83mm
Concealed line - 75mm

Filling

Straight line - 55mm (máx.)
Decor line - 55 mm (máx.)
Concealed line - 30 mm (máx.)

Maximum weight/leaf

tilt and turn: 110Kg/130Kg per leaf
Hopper: 70Kg per leaf

Cuts

Mitre (45º)
 Test Results
CE Marking (EN 14351-1:2006 + A1:2010):
AIR Permeability: Class 4
WATER Proofness: Class E1350
WIND Resistance: Class C5
System provided by

JGI partner for over 20 years!
Share on