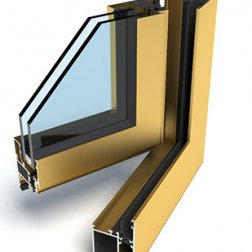 Technical documentation

Side View

Promotional Brochure

Technical Catalogue
AT System
Hinged
45mm thermal break jamb system
Ref. : AT System
Thermal break system designed to object thermal amplitudes on national ground. This system provides high benefits from reduced investment:
Aspect

Stright | Round | Decorative

Fixed Ring

45mm | 52mm | 59mm |70mm | 77mm

Movable Ring

45mm | 52mm

Filling

De 4mm a 39mm

Insulation

EPDM Joints

Polyamide

15mm

Maximum weight per pane

Int./Ext. Jamb 180Kg
Tilt and turn 150Kg
Parallel tilt | Projector 120Kg
Tilting 70Kg
Vertical pivot 60Kg
Horizontal pivot | Folding 80Kg
Test Results
CE Marking (EN 14351-1:2006 + A1:2010):
AIR Permeability: Class 4
WATER Proofness: Class E750
WIND Resistance: Class C5
System provided by

JGI partner for over 20 years!
Share on