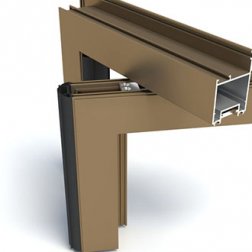 Technical documentation

Promotional Brochure

Technical Catalogue
PS System
Hinged
Intensive use jamb door system
Ref. : PS System
PS system was developed for intensively used entrances to public or private buildings. It is a highly resistant system to usage and vandalism when provided with:

• Anti-break-in system;
• Anti-finger-jamming;
• Anti-panic bar (Savio, designed by Pini Farina).
Aspect

Straight

Fixed ring

52 mm

Movable ring

52 mm

Filling

From 4 to 32mm

Insulation

Double, lateral in EPD

Maximum weight per pane

180Kg int/ext opening
120Kg Swing

Maximum size per pane

1 pane door - 1,50m x 4,00m
2 panes door - 3,00m x 3,00m

* For heights exceeding 3,00m, consult the technical Department
Test Results
CE Marking (EN 14351-1:2006 + A1:2010):
AIR Permeability: Class 2
WATER Proofness: Class 1A
WIND Resistance: Class B4
System provided by

JGI partner for over 20 years!
Share on